Oasis® 2800 Patio Shades
Protection from glare, heat, UV rays and golf balls, with enhanced daytime privacy for larger patios and openings.
Solar Screen Patio Shades Block the Sun, Not the View
Oasis® patio Shades roll down to block the glare, reduce the heat, and make your deck or patio more enjoyable. Our roll-up solar screen shades dramatically extend the hours of quality time you can use your patio or deck by making them more comfortable in the morning or afternoon hours when the sun angle is low.
Custom sizes to 19′ wide
Motorized with Somfy or Driven by Lutron™ Systems
Manual hand crank operation available
Choice of side track or cable guide fabric stabilization system
Welded fabric edges for durability
Shades can be retrofitted to existing covered patios, screen porches, gazebos, and open trellis structures. Shades can also be designed into new backyard construction projects.
Protect Your Deck, Patio or Pergola From Glare, Heat, Golf Balls, and View by Neighbors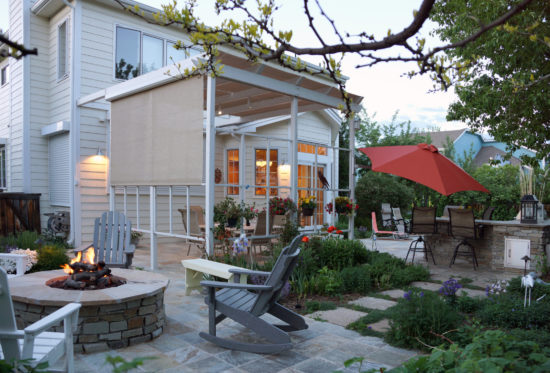 Insolroll Oasis 2800 Deck and Patio Shades were invented in 1986 for Patio Sun Protection. Our shades will dramatically reduce sun glare and keep you cool to enjoy the great outdoors. Shades provide protection from errant golf balls and a level of privacy from nearby neighbors. Making your patio area safe and private is what our Oasis® brand is all about. Dense solar screen fabric weaves provide excellent daytime privacy. Light colors screens provide the best privacy.
Oasis 2800 Patio Sun Shade Solar Screen Fabric Collection
Sun Control Fabrics for Outdoor Living
Solar screen fabrics provide great glare control characteristics on a patio.
Selecting dense solar fabrics (3% or 5% openness) can resolve harsh glare situations from the setting sun.
Dark colors provide the best view-through and glare control characteristics.
Light fabrics provide better daytime privacy.

Solar screen fabrics with greater openness (8%-10%) provide better view through.
Our original patio shade design is made even more versatile by our broad fabric selection. Choose from a wide array of colors, textures and styles to complement every patio design and color scheme. Beautiful design doesn't have to stop at the patio door!

Oasis® 2800 Patio Shade Operation
Motorized Operation
Insolroll offers 2 industry leading motorization systems for Oasis 2800 Patio Shade. The convenience of motorization offers on-demand shade with one-touch operation as well as control by scenes, scheduling, voice control, and mobile device control.
Somfy Radio Motors and Controls
Somfy has been the international leader in motorization for outdoor shading systems for nearly 50 years. Insolroll's Quiet Radio Motor (IQM-ACR) is a 110 V AC motor utilizing a 6 Nm or 10 Nm Somfy motor depending upon shade size.
Additional Somfy Motor Options
IQM-AC: 110 V AC quiet bi-directional motor with 4-wire hardwire switch control
IQM-485-AC: 110 V AC power input and data cable connection to digital network. Ideal for large home automation and building control applications.
Somfy Motorized Shade Controls
Simple radio control with wireless wall switch or outdoor radio transmitter
Somfy TaHoma® app-based control allows shade control with mobile devices even when you're away and features voice control
Lutron Electronic Drive Unit Systems
Our technical alliance with Lutron Electronics brings best-in-class motorized outdoor shading systems to the luxury home market. Lutron Roller 300 Electronic Drive Unit 35 V DC drive integrates seamlessly with Lutron Homeworks QS®, Radio RA2®, and Caséta® Controls.
Lutron Control Options
Simple wireless switches and transmitters for standalone applications, RadioRA2® or Caséta wireless lighting control systems
Complete integration with Lutron HomeWorks®
Learn more about Oasis Shades Driven by Lutron
Manual Operation
Hand crank and gear operation is available for applications where power is not available.
Oasis® 2800 Patio Shade Hardware
Roller Housing Options
Most options available in 4 colors*, for both side track or cable guide, and for ceiling or surface mount
5″ x 5 ½" Extruded Aluminum Head Box
5-sided
Surface or ceiling mount
White, Bronze, Tan and Black
5″ x 5 ½" Extruded Aluminum Pocket; Exposed or Recessed
3 ½" Access Flap mounts to front of extruded head box
Surface or ceiling mount
White, Bronze, and Tan
Exposed Bracket for Exposed Roller Applications and Custom Pocket
3 ½" x 4 ⅓" x 3 ¼" heavy-duty aluminum bracket
Surface or ceiling mount
Hardware Colors
Standard: White, Bronze, Tan, and Black
Custom:

Contact Customer Service for details

*Extruded Head Box not available in Black as standard. May be special ordered.
Track Guide or Cable Guide Fabric Stabilization Systems
Fabric stabilization systems keep shade fabric where it belongs. Each system is designed to address the needs of individual applications. Track Guide system is well-suited to applications with squared or flat pillars or openings.
Track Guide System
The Oasis Track Guide system features an aluminum side track designed to allow smooth raising and lowering of the shade while keeping fabric in place with a specially designed hem bar. The hem bar is designed with a metal pin at each end which fits into the side track.
Face mount or side mount
Vinyl rail guard for smooth operation
Matching plug buttons for face mount applications; not required for side mount
White, Bronze, Tan, and Black
Cable Guide System
Insolroll's Oasis Cable Guide System features a nylon-coated stainless steel cable anchored in a deck mount or side mount bracket. Cable passes through a nylon guide pin in the specially designed hem bar. Cable guide system is excellent for applications with rounded or angled columns or masonry.
Cable Tension Lock
Choice of wall mount or deck mount bracket
Silver
6 ½" x 9″ cavity built-in above the ceiling
3 ½" Aluminum Access Flap mounts to Aluminum Hanger inside from of pocket
Hardware Colors
Standard: White, Bronze, Tan, and Black
Custom:

Contact Customer Service for details