Exterior Sun Shades for Windows and Doors
Oasis Exterior Window Shades block heat, glare, and UV, and protect window glass from golf balls.
Our Blackout Exterior Sun Shades are the 2019 WCMA product award winner for Best New Technical Innovation Specialty Application Shades!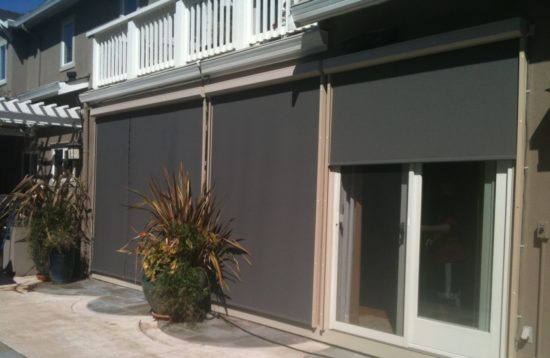 Oasis® Exterior Sun Shades Keep Homes Cool!
Blocking the sun before it enters a window is the most effective way to reduce heat gain. Exterior sun shades roll down when you need heat protection and roll up when you don't.
Oasis® Exterior Sun Shades are the perfect window solution for extreme sun exposures. Exterior solar screen sun shades reduce heat gain significantly through windows and door while lowering energy costs for air conditioning. Choose from 3 models for various window applications:
Oasis 2700 Motorized Patio Shades with Cable Guided Fabric System
Oasis 2800 Motorized Patio Shades with choice of Cable Guided or Track Guided Fabric System
Oasis 2900 Retractable Insect Screen Shades with Zipper-captured Fabric System
Exterior Sun Shades Block the Sun, Before it Strikes the Window
Utilizing a European concept, exterior solar window shades mount on the outside of the windows. Mounting shades on the outside blocks up to 97% of the heat and UV rays before the sun enters through the window. The bulk of the heat is either absorbed by the screen and then dissipated or reflected.
Exterior Sun Shades with Solar Screen Fabric are Like Sunglasses for Windows
Like sunglasses for your windows, Oasis® Exterior Window Shades enhance the view by filtering the sun and reducing unwanted glare. These exterior solar screen shades provide a clean look from the inside. Exterior shades can be combined with any style of interior decorative window treatment. Dark fabrics provide the best view through characteristics in exterior roller shades.
Passive Solar Warming in the Winter
Control heat gain by rolling down exterior solar sun shades on hot days to block the heat and rolling the shade up when you don't need it. In some climates you may prefer to have shades retracted to maximize solar heat gain in the winter.

Exterior Solar Screen shades are Custom Made for Windows and Doors.
There's no need to settle for ill-fitting exterior shades. Oasis Exterior Shades are custom made to fit windows and doors up to 19′ wide.

Oasis® Exterior Window Shade Motorized Operation
Motorized shades are recommended for exterior window applications because they can be operated from inside the house.
Insolroll offers 2 industry leading motorization systems for Oasis 2800 Patio Shade. The convenience of motorization offers on-demand shade with one-touch operation as well as control by scenes, scheduling, voice control, and mobile device control.
Somfy Radio Motors and Controls
Somfy has been the international leader in motorization for outdoor shading systems for nearly 50 years. Insolroll's Quiet Radio Motor (IQM-ACR) is a 110 V AC motor utilizing a 6 N•m or 10 N•m Somfy motor depending upon shade size.
Additional Somfy Motor Options
IQM-AC: 110 V AC quiet bi-directional motor with 4-wire hardwire switch control
IQM-485-AC: 110 V AC power input and data cable connection to digital network. Ideal for large home automation and building control applications.
Somfy Motorized Shade Controls
Simple radio control with wireless wall switch or outdoor radio transmitter
Somfy TaHoma® app-based control allows shade control with mobile devices even when you're away and features voice control
Our technical alliance with Lutron Electronics brings best-in-class motorized outdoor shading systems to the luxury home market. Lutron Roller 300 Electronic Drive Unit 35 V DC drive integrates seamlessly with Lutron Homeworks QS®, Radio RA2®, and Caséta® Controls.
Lutron Control Options
Simple wireless switches and transmitters for standalone applications, RadioRA2® or Caséta wireless lighting control systems
Complete integration with Lutron HomeWorks®
Oasis® 2900 Exterior Sun Shades hardware
Multiple options make customizing your exterior roller shades a breeze!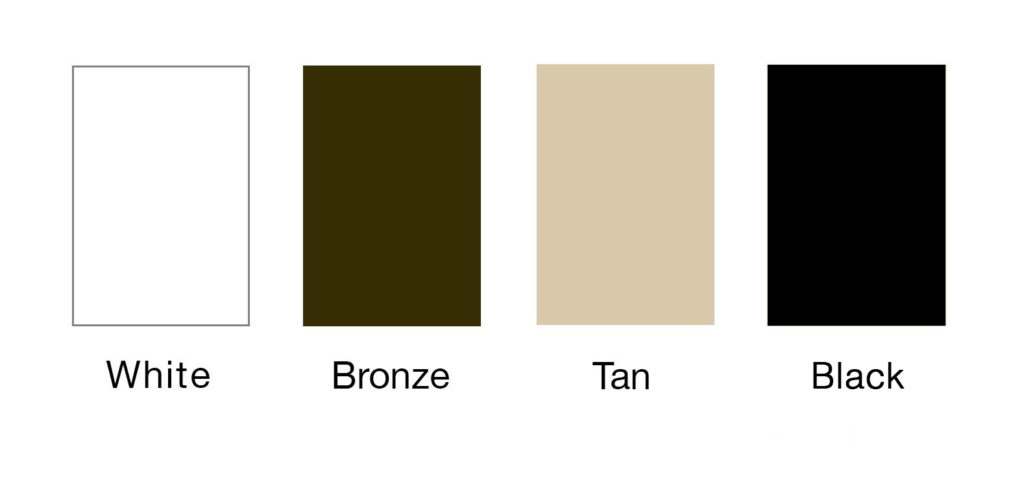 Aluminum headbox
Five sides give our aluminum headbox a pleasing profile, and 4 colors (White, Bronze, Tan and Black) provide an option to complement every design scheme. Inside, the fabric is protected from the elements when the exterior solar shades are rolled up.
Fabric Control Systems
Oasis 2700: Cable Guided fabric system keeps fabric in place; surface mount or deck mount bracket
Oasis 2800: Choice of Cable Guided or Track Guided fabric system keeps fabric in place. Surface mount or side mount to meet the needs of all applications.
Oasis 2900: Zipper-captured fabric system keeps fabric in side tracks, keeping fabric taut and insects out
How exterior solar shades work
Solar shades on the outside of the window are highly effective because they stop sun rays before they enter the glass, keeping it from heating up. The inside of your home stays more comfortable, and cooling costs are reduced.
Oasis® 2900 Exterior Sun Shade solar screen fabric collection
Solar screen fabrics to block the sun, not the view, and translucent and blackout fabrics for privacy.
Dusk Exterior Blackout
Blackout Fabrics Oasis® Patio Shades For Exterior use
Made of solution-dyed acrylic fiber with a PVC back coating, Dusk blackout/privacy fabric is completely waterproof and combines the elegance of an acryic canvas-look fabric with the waterproof performance of PVC on the out-facing surface. Offering complete privacy, dusk's PVC Back coating features Blockout finishing for thermal and visual comfort, as well as maximal protection from the sunlight.
Vinyl-coated fiberglass solar screen fabric, Kona is woven in a basket weave configuration for excellent view-through. Available in 5% and 10% openness.
Vinyl-coated fiberglass solar screen fabric, Maui is woven in a basket weave configuration for excellent view-through. Available in 3% and 5% openness.
Woven from thick, 165 Tex core yarns, Palisade solar fabric has added strength and durability for extra-wide patio shade applications. Weather-resistant, this premium fabric features basket weave pattern for optimal view-through. Available in 3% and 5% openness.
High tensile- and tear-strength acrylic translucent fabric for privacy, sun protection and resistance to rain. Click to view larger swatches.
Heavy-duty vinyl-coated insect screen designed to keep out mosquitoes and other insects. Three times stronger than regular insect screens, it is pet-resistant, tear-resistant and puncture-resistant. 45% openness; click to view larger swatch.
Vinyl-coated polyester insect screen with very small apertures to keep out very small insects such as No-See-Ums, or biting midges. 48% openness; click to view larger swatch.
Oasis® Exterior Blackout Window Shades
Winner of the 2019 WCMA Best New Innovation Product Award, Oasis Exterior Blackout Window Shades make outdoor TV watching easier on the eyes!
With Dusk Exterior Blackout Fabric, our Exterior Blackout Shades provide room darkening for daytime media viewing, reducing the sun's glare and heat, as well as offering zero view-through for added privacy.